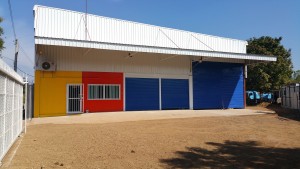 UD Self Storage is an Australian/Thai family owned and operated, with 20 years of experience in the storage removals and relocation industry in Australia.
We pride ourselves on being the first and the only dedicated self-storage facility in the north of Thailand. Our goal is to provide a safe and secure, friendly and convenient site for our clients to store their possessions.
We offer 7 days x 24 hour continuously recorded surveillance, security alarms system (which can be accessed remotely outside of normal operating hours) and limited access entry points into the building to give maximum peace of mind.
Members of our professional team will always be available at our on-site office, and can tend to your needs and monitor the entry point to our facility.
We understand that downsizing to a smaller home space can be an issue; we understand that modern working lifestyles may require you to be away from your abode for months at a time; we understand lifestyle choices and circumstances may create the need for additional space. In such circumstances you can rest assured our facility offers all that you require.
Whether you need a place for your golf clubs, your motor bike, a vehicle, a few pieces of furniture or a complete household of items, UD Self Storage can help you!
For those in-between moves (such as selling your home to finance the purchase of a new home) timing can be an issue. Coupled with the high cost of quality furniture and a poor second hand furniture market, UD Self Storage is a safe and easy option for many.
Our facility also offers large undercover loading areas with plenty of room inside to protect you from inclement weather while you are loading or storing your items. And should you need to refresh after storing your items, we have toilet and shower amenities, with a waiting lounge and coffee, tea and water … all free of charge and available to our existing and potential clients.
With multiple units of varying sizes from which to choose, we know you will have peace of mind when storing your possessions with UD Self Storage.
For your convenience we sell all the materials you will need to make the experience of storing your items with us an easy and pleasurable process. We sell boxes, tape, tape guns, paper, cardboard rolls, bubble wrap and more. Click here for the complete list of the items we can help you with.
With the most competitive rates and rental terms in Thailand, we offer the best and most affordable self-storage solutions. Call us now or send an email (see form below) to reserve your safe and secure storage space today!